Jianfengling National Forest Park is a park in the West of Hainan – the tourist websites claim that it is "the largest and best-preserved tropical original forest in China", which – if true – is a rather sad statement given the wide inroads that commercial agriculture has made into the park. Still, it has quite a good habitat and birds – so good, in fact, that the frugal blog post writer (me) decided to write two separate posts about this park. This is part one, covering birds named from A to H. Yes, I know that this is a bureaucratic and unappealing way to split the post into two parts. Can't say I really care.
Note: you can find much more factual descriptions of birding at Jianfengling on Shanghaibirding.com – a very recent report by Mark Havenhand to come soon and an older one here.
Given the exciting and exotic birds Hainan has to offer, starting the post with a Barn Swallow is a bit of a letdown. But that is what the alphabet wants, and that is what the alphabet gets.
The Black-throated Laughingthrush on Hainan is a distinct subspecies (or maybe a full species, Swinhoe's Laughingthrush, in which case the poor birds would not have to travel to their mainland no-longer-relatives anymore during Chinese New Year). The main distinction – fortunately one even I can tell – is that the ear coverts of the Hainan birds are black, not white.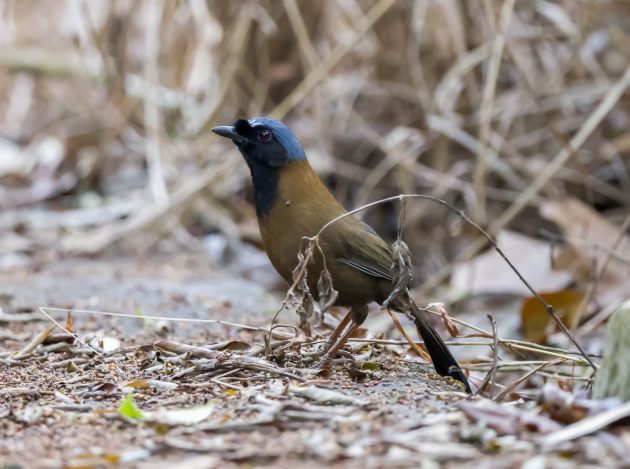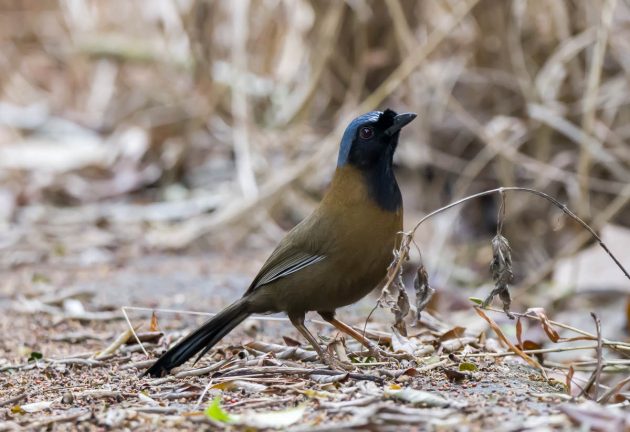 While listed as Least Concern, the species is threatened by the cage bird trade, as it has a nice song. Hopefully, people will gradually learn about the existence of modern devices such as radios, mobile phones, karaoke bars, and TV sets as sufficient providers of acoustic entertainment.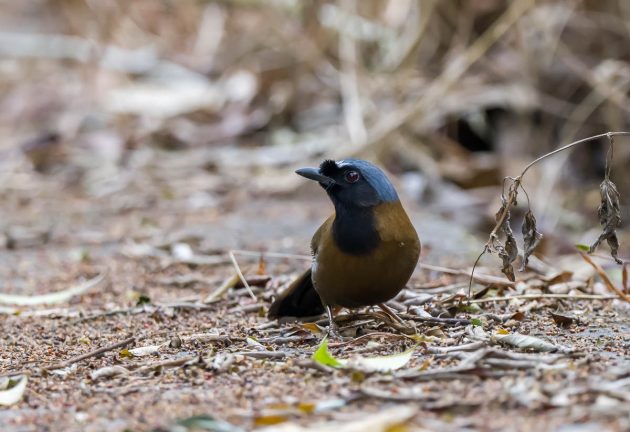 The Black-naped Monarch is among my favorite birds, but – presumably for my sins – I have not been able to get a decent photo of a male yet. As the species has a rather large area of distribution including Thailand and India, chances are not too bad in the long run.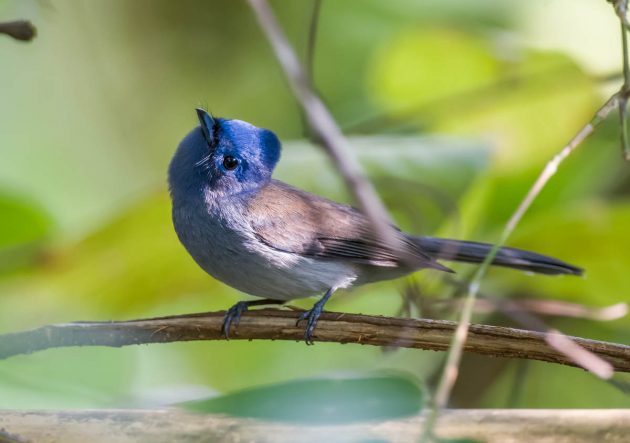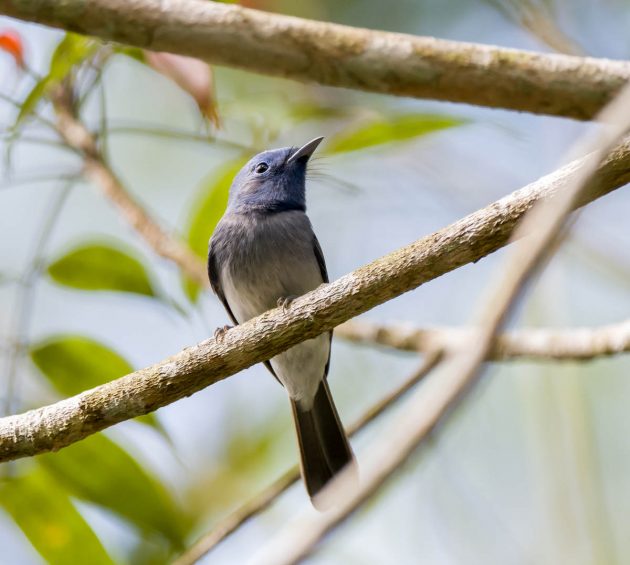 Given my failure to get a really nice photo of the monarch, it was heartening to see that the main photo on the HBW page for the Black-winged Cuckooshrike was actually taken by me (in Shanghai). It is indeed substantially better than the two photos below that I took at Jianfengling.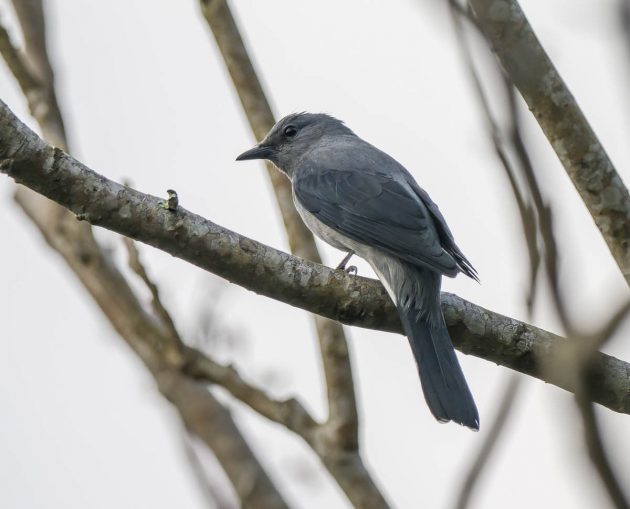 As this photo was taken in China and not in the US, the chances are high that this Blue-bearded Bee-eater is a real bird and not a drone recharging. But then, who knows?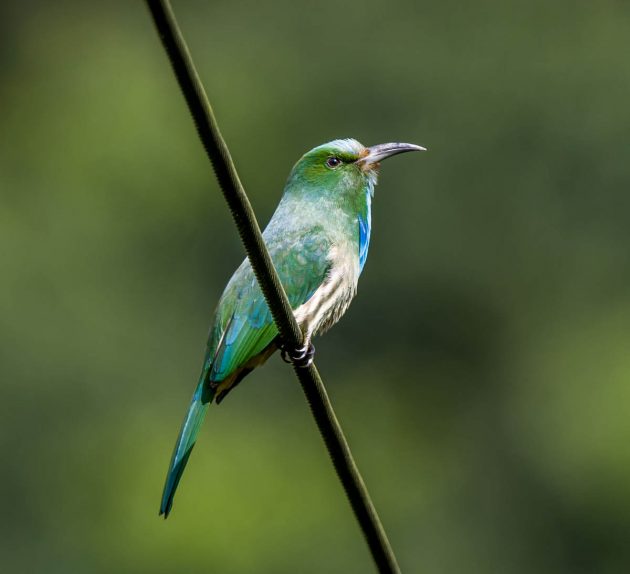 While rare in Shanghai, Chestnut Bulbuls are quite common on Hainan.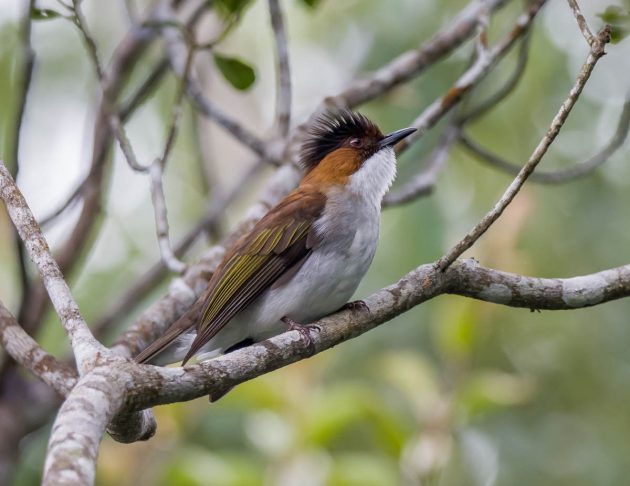 The Chinese Barbet is taking face painting to new extremes. I have seen seasoned clowns throw up seeing the face of this species.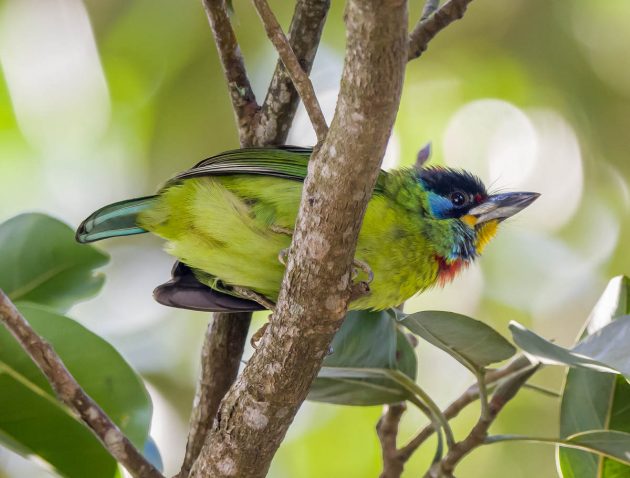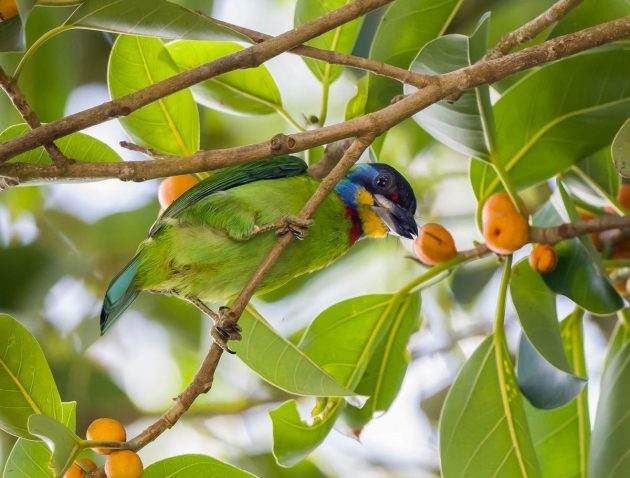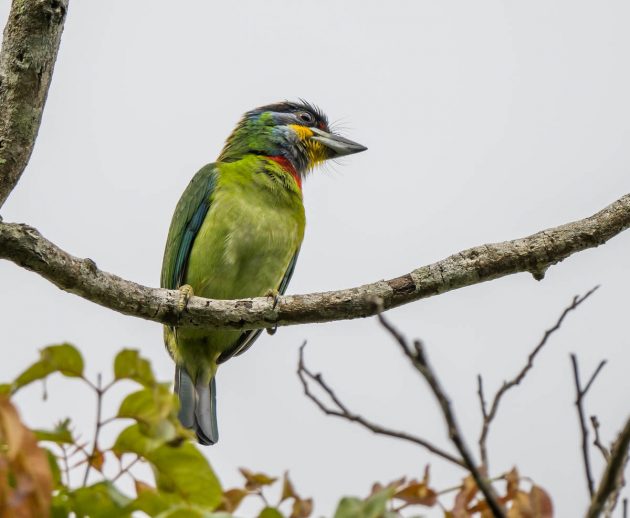 It took me five years to see my first – highly desired – Collared Owlet. Then, I did not see it again for another year. Then, I saw two on the same day, within two or three hours. I am not quite sure what this says about the gods responsible for birding and birders. Are they careless? Absentminded? Flippant?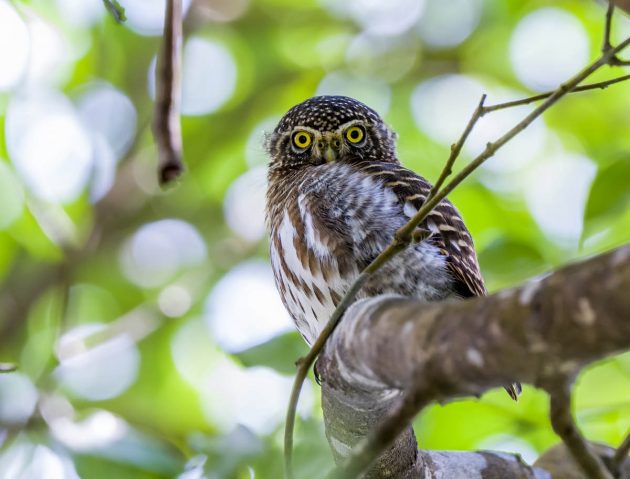 "Did you buy your new camera especially for me?"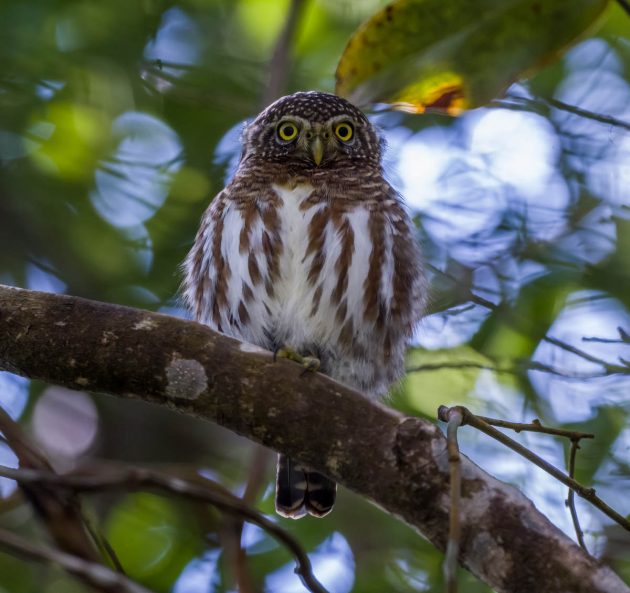 "I know this makes me look a bit dumb"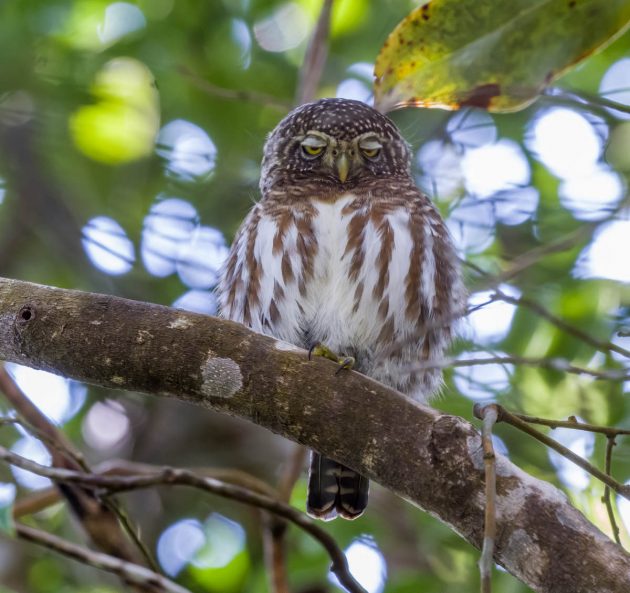 "I am not fat, it is just air"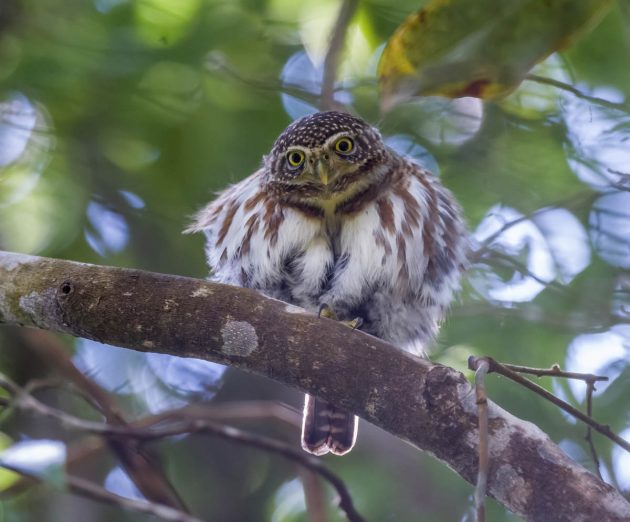 "This is my ET look"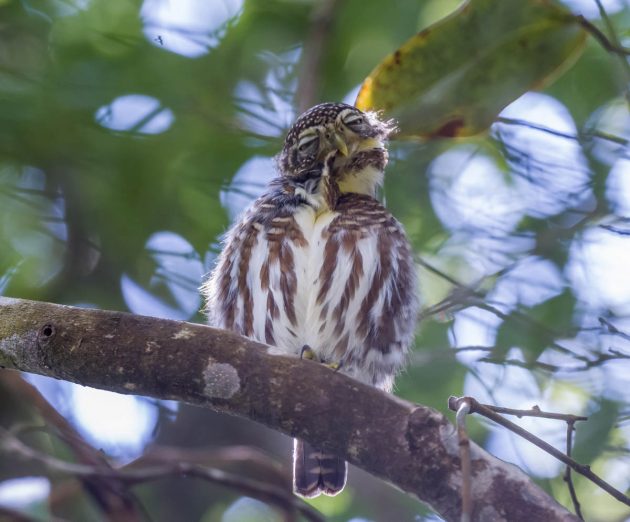 "Yes, you saw my brother down the road earlier"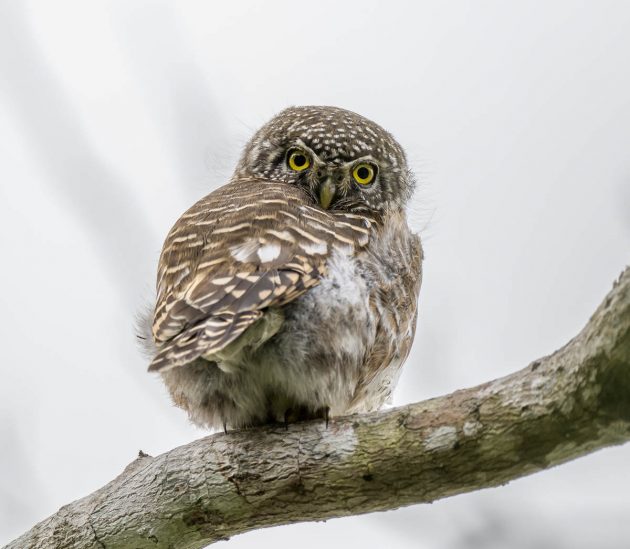 "My false eyes are watching you"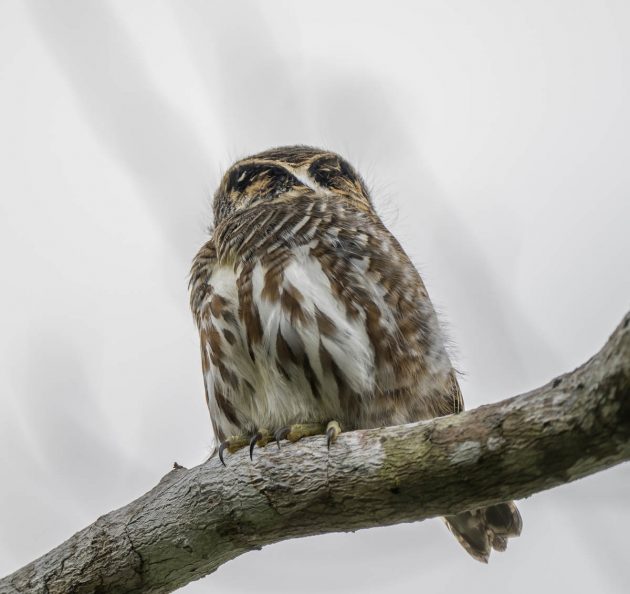 "I can't look at this fumbling photographer any longer"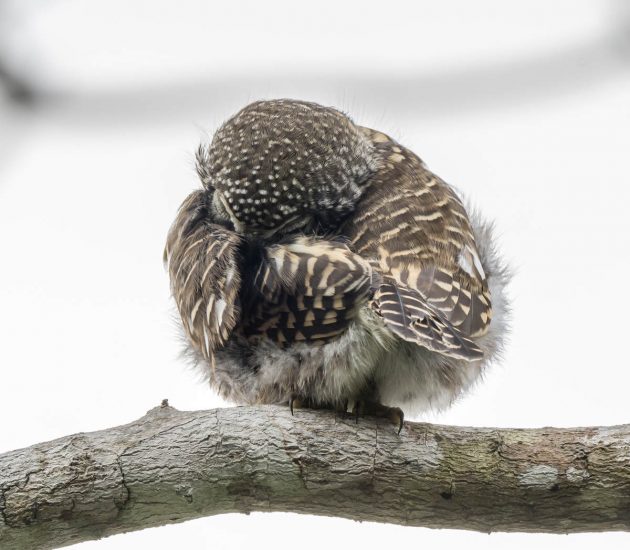 A Common Kingfisher had a bit more patience with me.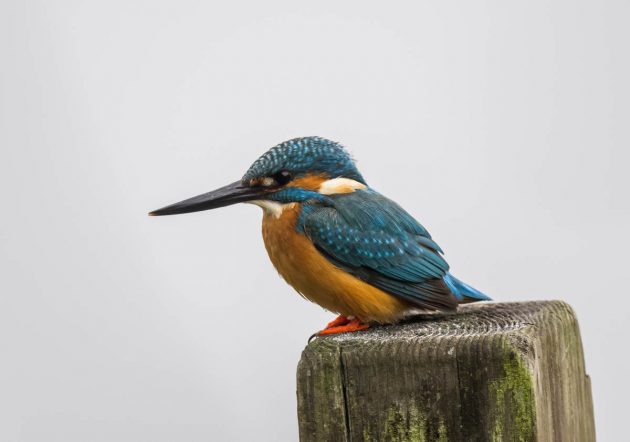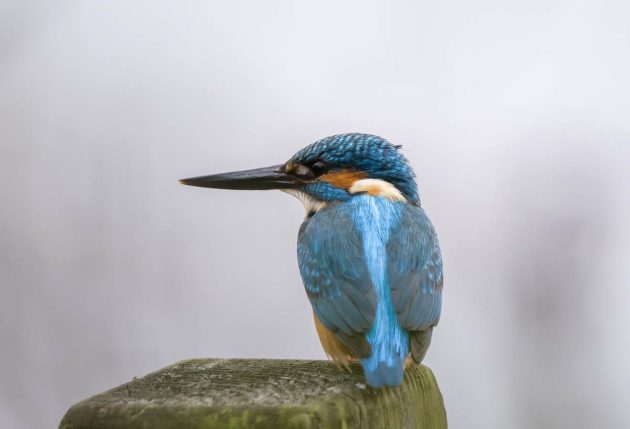 The Fire-breasted Flowerpecker is the kind of bird I see in a bird guide and think "Wow, I want to see this one!" Fire-breasted is a good name – it is about time that the Welsh naturalist Edward Fire-Breasted (1790-1853) gets some recognition. I will need to get a much better photo of this one in the future, though.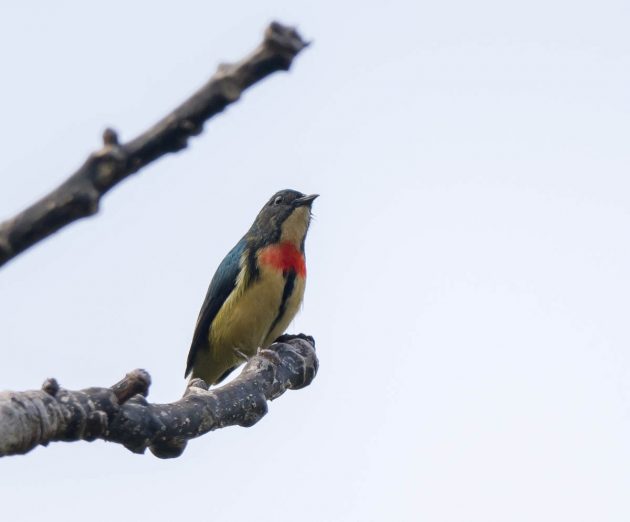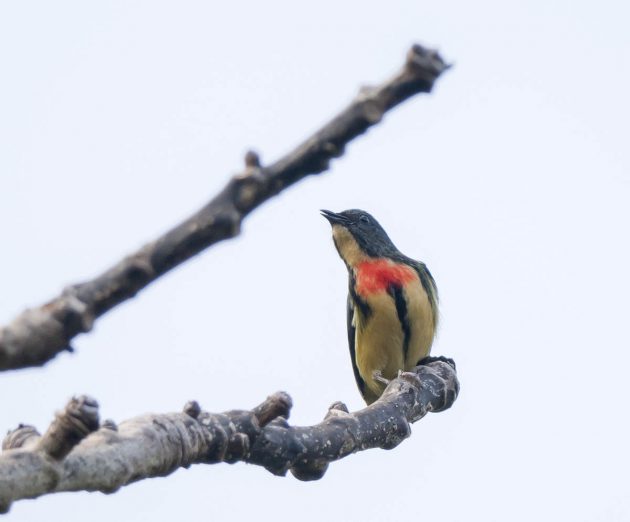 Fork-tailed Sunbirds sometimes get tired of being reduced to their tail. A typical reaction is to pose in a direction in which the tail is not visible.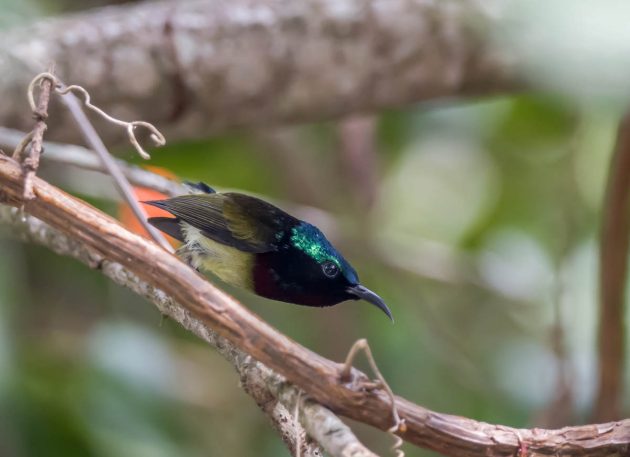 Usually, when you see a minivet, you have to take out your bird guide and take a close look at the wing patterns (minivets have not yet understood the concept of nametags). Fortunately, this is not necessary for the Grey-chinned Minivet, thanks to (wait for it) the grey chin which is a distinct feature of this species.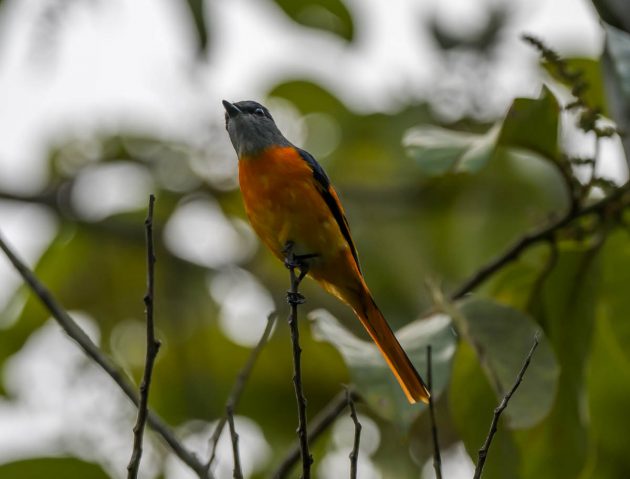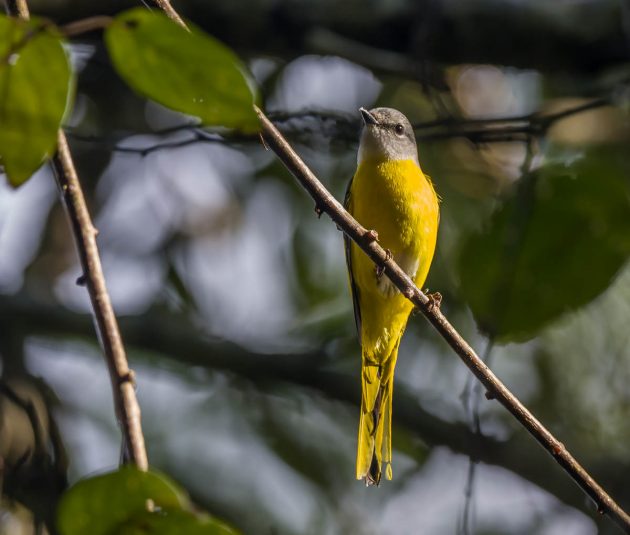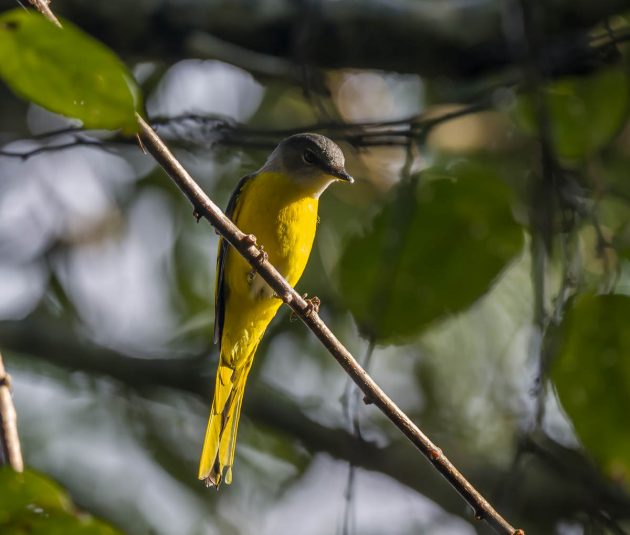 One road inside the Jianfengling National Forest Park ends at the crumbling remains of a spa. I do not know what the long-term plans are for this site, but there are actually several ruins of former tourist sites at Jianfengling. Hopefully, this is a sign of purposely abandoned development rather than of business failures.
The main spa users these days are Grey Wagtails.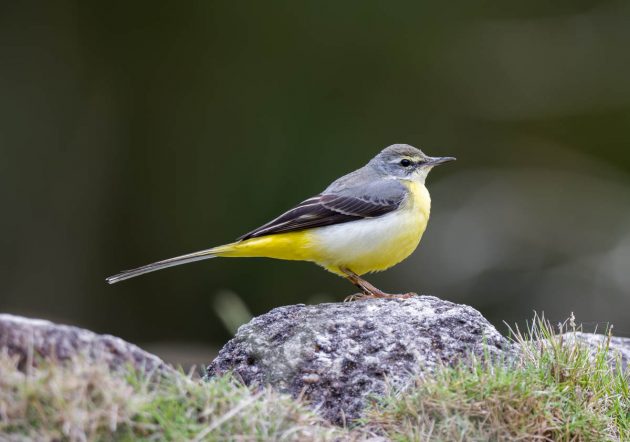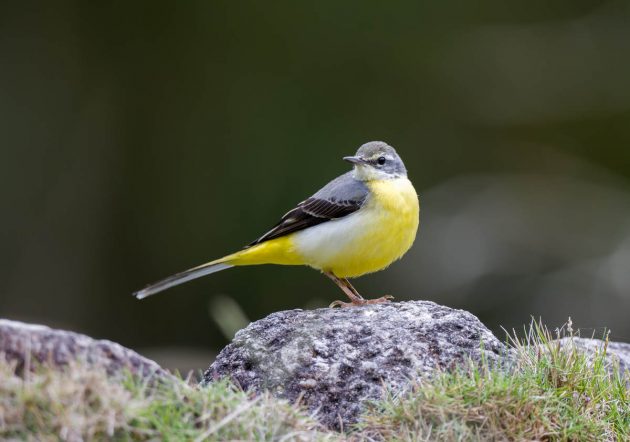 Right now I do not have anything interesting to say about the Hainan Blue Flycatcher, except that it is not a Hainan endemic. Instead, some random information about the color blue.
In the English language, blue ("feeling blue") stands for sadness and depression. In contrast, if a German is "blau", he/she is simply drunk while apparently, a Russian who is blue is gay (source).
And in several languages, having blue blood means being a member of the aristocracy. Following up on this, I thought that it could be a nice metaphor for aristocrats having limited oxygen in their blood (proud commoner that I am). It turns out this analogy does not work – blood is always red, even if depleted in oxygen. The reason why I thought of venous blood as being blue is that this is how it was – mistakenly – shown in the biology books used in school (source). You have my permission to laugh at me now.
There are three endemics on Hainan – the Hainan Leaf Warbler is one of them, and the only one I saw on my trip. A good reason to come back again (also, the hotel where I stayed had four very cute kittens which one night all fell asleep on my lap. Need to see how they are doing).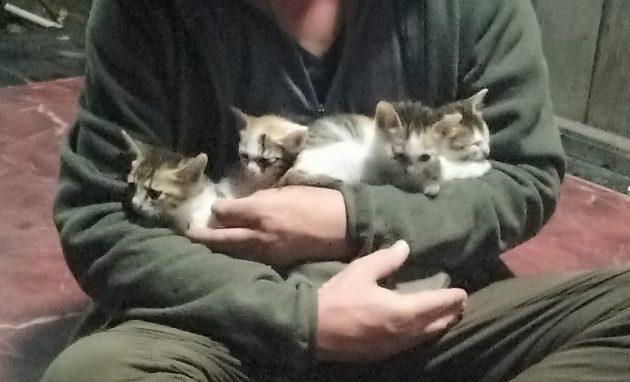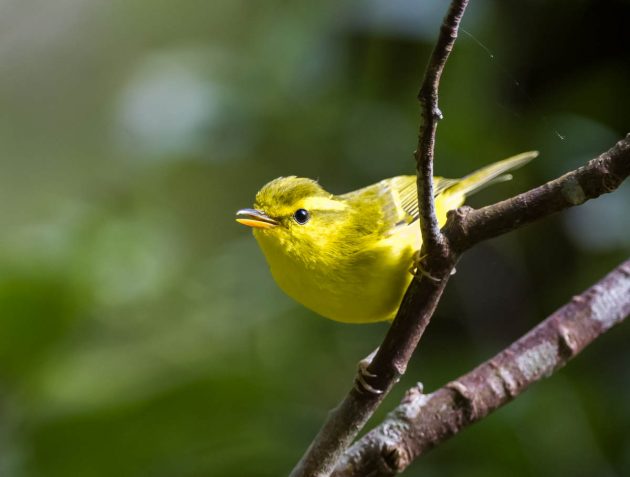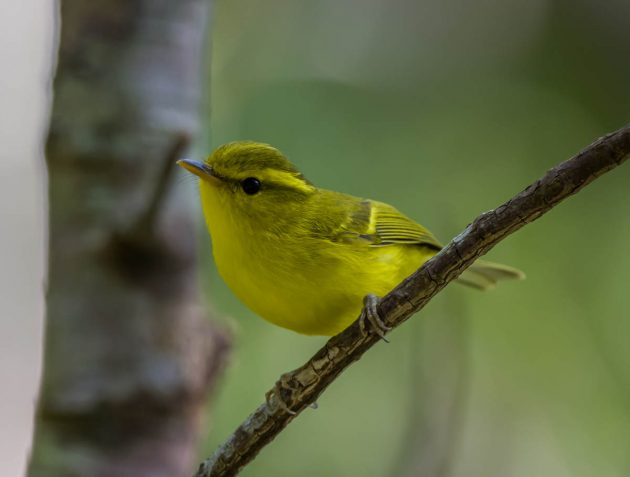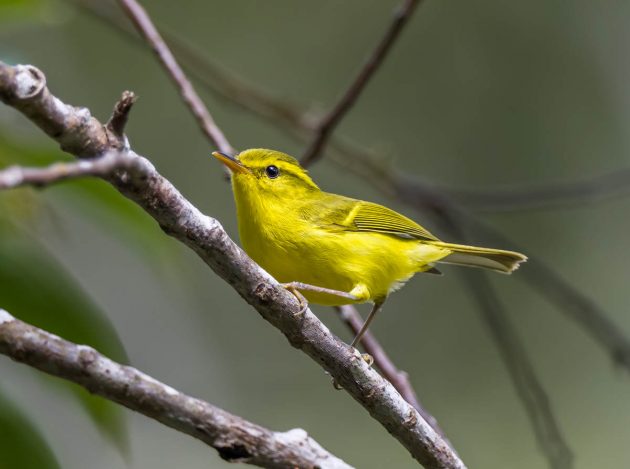 There are two possible namesakes for Huet's Fulvetta, both French – one  Nicolas Huët (1770-1830), French painter and bird illustrator, the other Joseph Huët (1827-1903), French zoologist (I kind of lack the energy to make up a third Mr. Huet right now). At first glance, neither of them seems to have any close relationship with fulvettas. On the other hand, neither of them at first glance led a particularly interesting life (not quite true – one traveled to Egypt with Napoleon), which matches well with the rather boring-looking fulvetta.
Of course, the HBW does not call a bird species boring – they say "Huet's Fulvetta is a recently recognized species, having been previously subsumed within the geographically widespread 'Gray-cheeked Fulvetta' complex along with the Yunnan Fulvetta, David's Fulvetta, and Morrison's Fulvetta. The four are now split principally on the basis of molecular divergence, as they all look and sound very similar."
Fortunately, the other three apparently do not live on Hainan (probably to avoid confusion and/or the mandatory wearing nametags), making the identification of this fulvetta straightforward.
Other highly scientific notes on this species: It moves very fast, which – even though it is quite common – makes it hard to get a decent photo of it.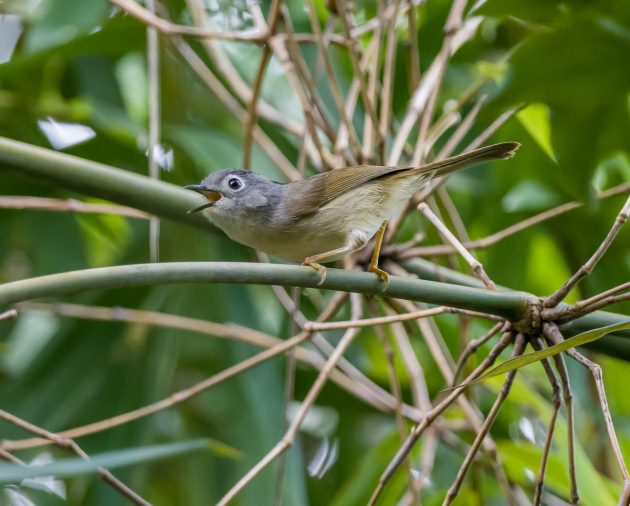 (Wikipedia, everybody's main source of scientific information, also lets us know that there is a Nicolas Huet, a French snowboarder born 22 July 1976 who competed in parallel giant slalom [whatever that is] at the 2002 Winter Olympics, where he placed 4th. My understanding is that the fulvetta is not named after him)
Nonbirds are not listed by name and thus also are not included in the alphabetical order.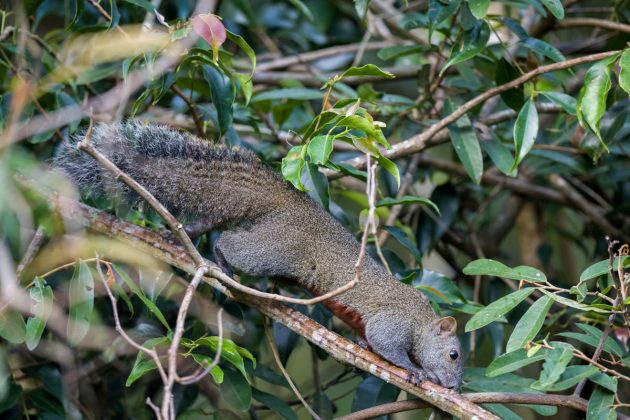 Part 2 will cover the birds from I to Z (not that there are any with Z though).
OTHER USERS BOUGHT THIS!!!