Today's Transformation Tuesday is a bit of a twist on our normal reader submissions, but it touches many in our industry.
The first image is a drawing Emily Ambrose did of Sterling Version when she was 16. "I drew him as a surprise for the Tordoff family and as my submission for the AQHYA World Show Art Competition," says Emily.
Since then, she's commissioned drawings for countless members of our industry and had the opportunity to draw some iconic horses who we all know and love(d), including Hesleepswiththegirls, Hand Made Machine, Art Of The Deal, Nearly Chocolate, Version of Goodbar, just to name a few.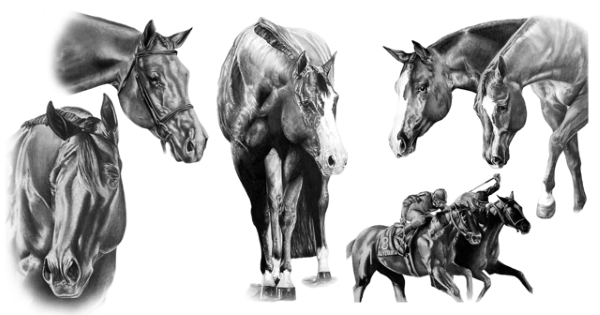 The second image includes some special drawings she completed since she officially started her art business, Dera Artistry, at age 21.
From left to right: Oops I Am Good, BMQ Almost Illegal, Hesleepswiththegirls, Alydar and Affirmed, Huntin For Gifts and Always ClowninAround.
Thank you to Emily for submitting this amazing reflection of some of the industry's top horses!
Autor Delores Kuhlwein
OTHER USERS BOUGHT THIS!!!